Second Thursday: Choose It or Lose It! July 11, 2019
Second Thursday
Choose It or Lose It: How to Decide Which Equipment to Pack and What to Leave Behind
July 11, 2019, 6:00 pm – 9:00 pm
In this presentation, studio owner and travel workshop photographer Nicholas Pappagallo will give you 10 essential tips for making sure you choose the right bodies, lenses, and accessories for the subjects you plan to shoot.  More isn't always better — especially while on the go.
Choosing the right equipment begins with prioritizing the things that matter most.
Nicholas will cover key factors you should consider before heading out on location to ensure you have your most effective tools on hand without the excess.
About the Speaker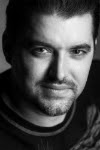 Nicholas Pappagallo
Lumix Ambassador Nicholas Pappagallo is an east coast transplant living and working in Arizona.
As a busy studio owner and travel and commercial photographer, his broad variety of work has made it essential to know the capabilities and limits of his gear and decide what to leave home.
Teaching has always been an important part of Nicholas's life. CaptureSchool & CapturePhotoCon are just two of the educational initiatives that he and his partner have established to help fellow photographers hone their craft.